Resilience and Future Belief
Resilience and Future Belief (RETU) is an EU-funded project (2018-2020) coordinated by the Laurea University of Applied Sciences in Finland. The project aims at identifying factors that may hinder students' ability to learn and stay motivated for planning their future.
Often problems connected with students' mental or social resilience or weakened agency can be difficult to detect. Thereby, the project strengthens the capacity of teachers and guidance counsellors to help students with critical issues relating to their studies or other matters.
Holistic view on a student's situation
The research carried out in an earlier project named TOTEEMI generated criteria that allow to take a holistic view on a student's situation. Now the Resilience and Future Belief project will transform these TOTEEMI criteria into a digital tool that measures a student's need for services and support.
This CREAR digital tool is called a Service and Support Need Indicator and it is freely accessible online in three languages (English, Finnish, Swedish). It produces information about problems linked to study progress (i.e. learning ability, resilience and agency) as well as to transition to further education or working life (i.e. career management and employability skills). The CREAR acronym originates from Career, Resilience, Education, Agency and Readiness.
It is important to explore learning ability, resilience and agency together as they are reciprocally interactive and affectively integrated. The uniqueness of this Service and Support Need Indicator is that it captures multiple aspects in one. Many previous assessment tools have concentrated on one aspect only: either learning or well-being or decision-making skills.
Students can use the digital tool independently to assess their service and support needs in relation to the above dimensions. Once they have answered all the questions, they receive a summary result that shows in which areas they (may) require assistance and support. With this result, they can turn to a guidance counsellor or look on their own at suggested sources of help and information.
Novel approaches to reducing dropping out
The main goal of this project is to guarantee equal opportunities for learning and working to all young people and to promote social inclusion and justice.
This project contributes to developing and disseminating new approaches at vocational education and training institutes to preventing students from dropping out. Moreover, the aim is to support students' study progress and transition to further education or working life. The sub-goals are to:
develop competences of teachers, guidance counsellors and other staff so that they are able to identify students' needs for support at an early stage as well as to assess the type of support needed and target their interventions accordingly.
improve the capability of staff at vocational institutes to form a holistic view on an individual student's situation, including knowledge of procedures, services and tools; awareness of concepts of agency and resilience; pedagogical skills and teaching methods so that students' individual skills and readiness are taken into account during learning processes.
provide educational institutes with a tool that can be used for assessing students' needs for service and support, as well as for assessing the effectiveness of the action or intervention.
contribute to giving all students equal access to counselling and support services, and to smoothening their transition to further education or working life.
support vocational institutes in the use of new approaches, methods and tools developed in multi-professional cooperation and in having them integrated in the regional plans for wellbeing of children and young people.
assist vocational institutes in the development of flexible study paths with easy access for students who have individual needs or difficulties in learning.
facilitate the use of the individual plan for competence development that is to be composed together with the student, including their study and career goals, pedagogical solutions to practising career management and employability skills in study assignments and in working life.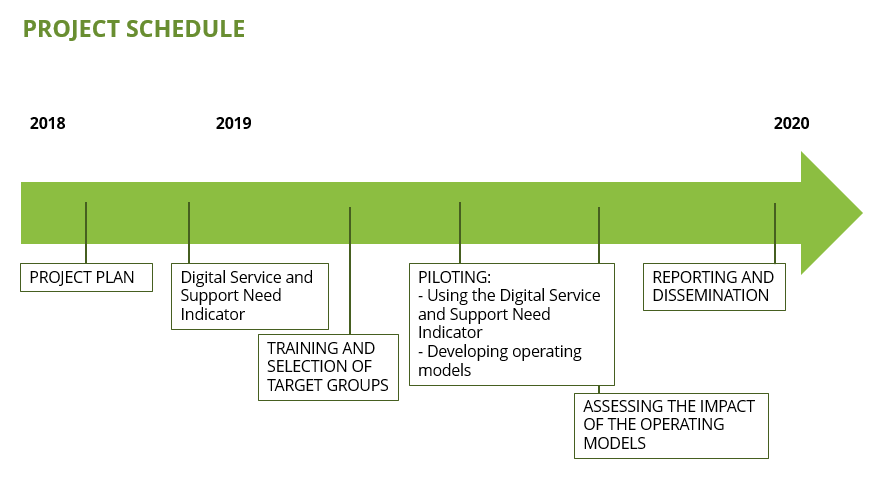 Digital Service and Support Need Indicator
RETU Indicator's first pilot version is now online at https://retumittari.fi/